On Wednesday, a spacecraft is slated to rocket into the sky with two living, breathing astronauts aboard for the first launch of humans into orbit from American soil in a decade. Heading up to dock with the International Space Station (ISS), the flight will also mark the first launch of a private spacecraft carrying astronauts to orbit in history. The Crew Dragon flight is a test, which, if successful, will enable NASA to continue ISS research and technology investigations that have resulted in benefits ranging from better access to clean water to improved laser eye surgery.
This event is a big, good thing, widely referred to as the start of an exciting new era in spaceflight. In an era void of a global pandemic and a moronic, destructive orange ooze pot of a president, this "glorious story" would be reason to "pass the Budweisers around, and let the livestreamed adrenaline loose on the imaginations of millions of kids," as writer Ashlee Vance puts it.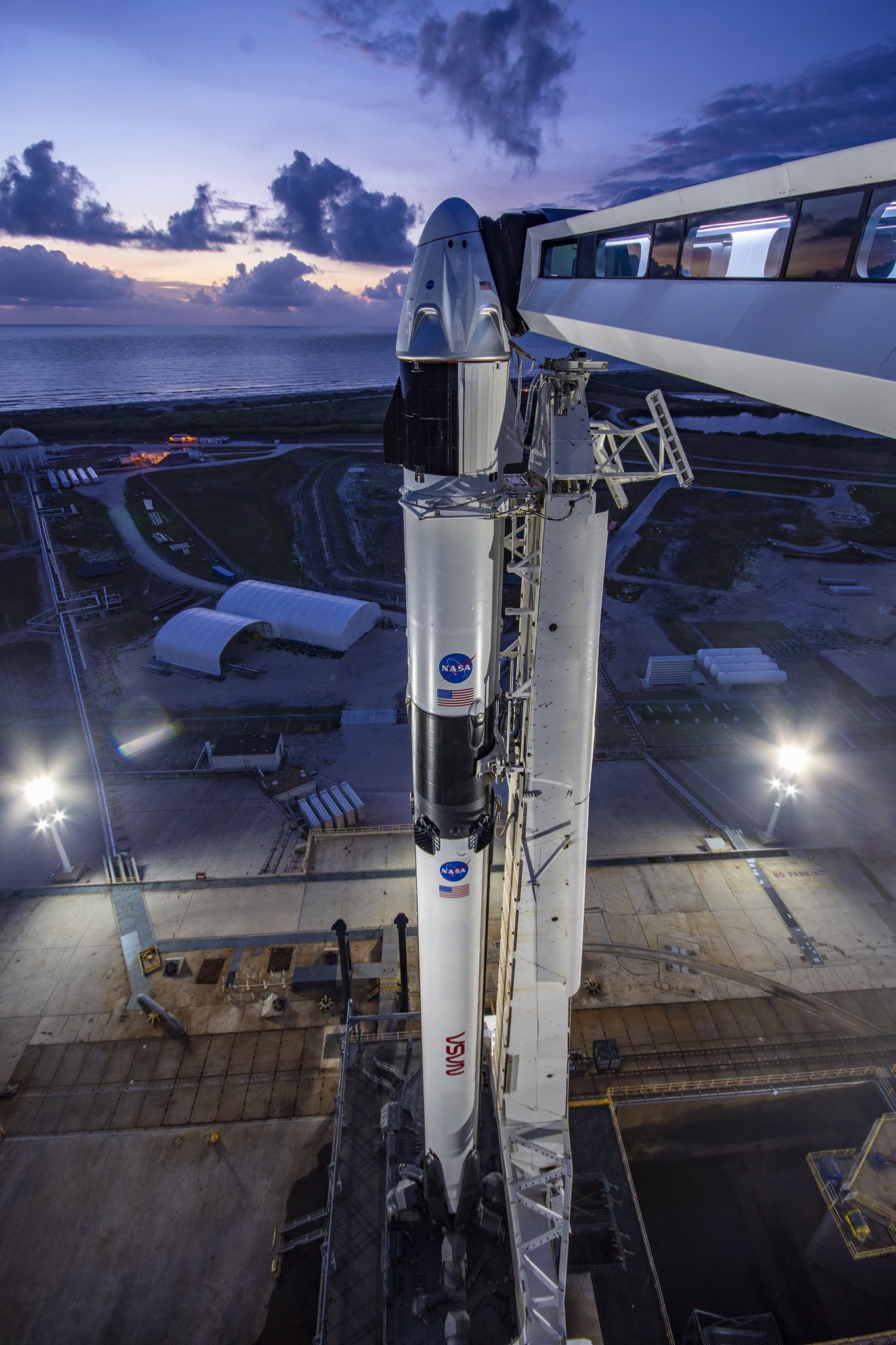 I know I'll be watching.
But, besides the A-Hole in Chief and a lethal plague, the face of this historic flight is everybody's punching-bag-du-jour, Elon Musk. His SpaceX company built the Crew Dragon and is partnering on the mission with NASA.
No, I haven't liked what Musk has said and done around covid. Calling panic over the illness dumb was no biggy. Panic is always dumb. But he Tweeted and ranted on, becoming a high-profile advocate of reopening while minimizing the deadly virus' effects.
He was slow in closing down his Tesla factory in the Northern California county of Alameda—hard hit by the virus—and restarted production there, flouting county officials who ordered the company to stay closed. That was two days after suing the county for its reopening restrictions. He sounded like the Orange Ooze Pot when he tweeted "Give people their freedom back!" and "FREE AMERICA NOW."
But WTF with all the Elon hate? Granted, it predated covid, but it's thick and ridiculous and ignores some extremely important facts. First, have you read about any dire effects of reopening his auto plant? I have not. I'm not making a case for anyone opening up early, but SpaceX, which has had a national security exemption from shut-down orders, has "had 8,000 people working full time through the whole pandemic," Musk told Bloomberg. "We've had zero serious illnesses or deaths despite working in L.A., Washington, Texas, and Florida. It's more of the same in China [for Tesla], with 7,000 people."
Secondly, despite his flaws, I mean, come on. This man has contributed profoundly in an intensely practical way to the most important issue facing civilization—the fight against climate change—by revolutionizing the auto industry with a crazily sexy and successful zero-emission car that pushed every other automaker to go electric. Driving is clearly the most environmentally deleterious thing the average American does (given how much we drive), so this matters big time–and guess what, covid will probably result in less mass transit use as people keep to the security of their own autos. PS: I do not in any way want to insinuate that the Coronavirus has wrought anything less than unmitigated tragedy—with deaths totaling 100,000 in the U.S. today, May 24. However, I feel the full effects of climate change are going to make us nostalgic for this pandemic. Last summer's fires in Australia and those that destroyed entire towns were two previews.
And all that billionaire talk? People slam that word against Musk as if he's murdered somebody. Or as if that's all he is. For starters, he made his money himself. He has built vast rocket, car and battery factories, as Vance notes. He employs tens of thousands of people, and, "created a worldwide car-charging network, figured out reusable rockets, started an artificial intelligence software company, dug tunnels for high-speed transport, founded a brain-machine-interface startup, and constructed a high-speed internet system … in space. (How's your sourdough starter going?)"
He also has the coolest mom, Maye Musk, a grandmother of 12 whose career as an internationally feted model and dietitian is booming in her 70s.
Furthermore, Musk gives a lot of his wealth away. His own private foundation hands out millions to support causes from renewable energy to science education to pediatric research. And he joined billionaires like Warren Buffett in signing the The Giving Pledge, a commitment by some of the world's richest people to give away the majority of their wealth, either during their lifetimes or upon their deaths.
So, get over it. and pop on over to NASA TV or SpaceX to watch the planned launch, scheduled for 4:33 p.m. EDT. Feel good that NASA is partnering with a job-creating private company to help do stuff like making it easier for people living in impoverished villages to find clean drinking water. And that an immigrant is employing yet more folks to build cars that don't prematurely kill humans because of vehicle exhaust.
I'll give Vance the last word:
"Even the most fervent Musk hater, of whom there are plenty in the U.S., has to feel some twinge of pride. At a moment when the American Empire can seem to be in decline, here's a clear sign that great things remain possible and that humans have much left to achieve."