Moe calls research on excess deaths by U of T Prof "egregious misinformation"
3 children with COVID19 in Saskatchewan ICU
$3.7 Million raised for Truckers for Freedom, but GoFundMe freezes funds
Feed shortage threatens cattle producers
extreme drought has reduced hay and feed grain supply
shipments of corn delayed due to extreme cold weather, COVID19 labour challenges, and supply chain issues
scroll down for latest headlines from around the Prairies
"It is troubling that this information was not being properly reported in the government's daily COVID-19 updates," Moe said. "However, Saskatchewan continues to report the lowest per capita COVID-19 fatality rate in Canada for the month of January, below provinces that have introduced the strictest lockdown policies."

CTV News
serious animal welfare issue warns Alberta Cattle Feeders' Association
missing from the database were 11 ICU and 6 hospital admissions
Saskatchewan audits COVID19 death toll and find 'database error'
Province reported 0 deaths between Jan6th and Jan20th but true toll was 9
someone forgot to 'refresh' the database filter
MPs defy O'Toole and vote to keep Senator Denise Batters with Saskatchewan caucus
Saskatchewan could more than double its record number of COVID-19 hospitalizations in February
Disaster looming in Saskatchewan!
Baby, 2 adults, and a teenager, found dead in field near Manitoba-U.S. border
part of a larger group of migrants that attempted to cross into the United States
Victims were abandoned in blizzard conditions with -35 windchill
Saskatchewan Unions demand gathering limits and restriction of travel between communities
SUN warns that nurses are spread thin
STF, SFL, CUPE, SGEU, SEIU, and SUN want the government to adopt Shahab's Jan 12th recommendations
"We need to make sure we have the health-care services and all other services for the people of Saskatchewan."

Judy Henley (CUPE)
Saskatoon Hospitals "stuffed to the gills"!
Hospitalizations to rise for weeks
Alberta hospitals admitting more young people for COVID19
40 kids in hospital
9 kids in ICU
3 kids aged 5-9 have died
Alberta hospitalizations near pandemic high
1089 in hospital
108 in ICU
Saskatchewan Schools move online
Alberta restaurant that accepted dog photos instead of QR codes closed to dining
-indoor dining to remain closed until owners submit a written plan for implementing the restrictions exemption program
-owners blame "underage host"
RCMP Training Academy hit with COVID19 outbreak
199 people in Saskatchewan hospitals, 21 of them in ICU
Jason Kenney tells Justice Minister to "step back" pending investigation
-Justice Minister Kaycee Madu in hot water after calling Police Chief about traffic ticket
-Energy Minister Sonya Savage becomes acting Minister of Justice
Alberta's jails have highest COVID19 rate in Canada
Regina Public Schools move online to slow spread of COVID19
1000+ Albertans in hospital with COVID19
-94 in ICU
-72K+ active cases
-Alberta Minister of Health Jason Copping tests positive
-23 deaths over weekend including a young child
Alberta Justice Minister Kaycee Madu fined for distracted driving after using cellphone in a school zone
-made call to Edmonton police chief to "discuss" the ticket
-NDP calls for resignation
Sewage testing shows that Omicron surge may have peaked already according to the Star Phoenix
Sewage testing shows increase of 107% in Saskatoon, 800% in PA, 12% in North Battleford so which is it?
Saskatoon SPCA and Regina Humane Society unable to continue enforcing provincial animal welfare laws
-Province denied funding
-will no longer investigate animal abuse
59% believe Moe is doing a terrible job
Saskatchewan hospitals are filling up fast!
40 patients need beds!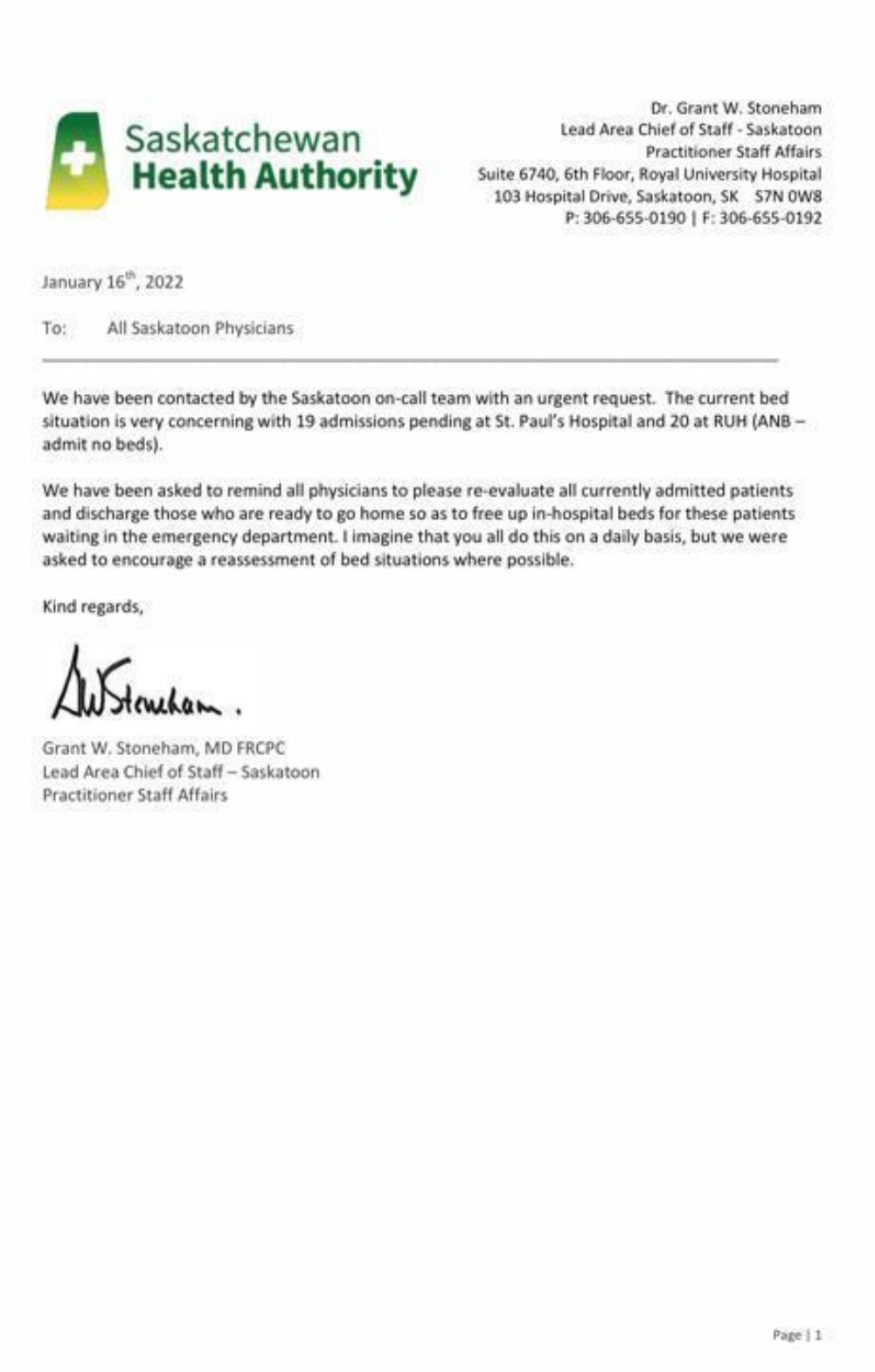 United Grassroots and Saskatchewan Party in bed together
MORE THAN 10K active cases in Saskatchewan. 1412 new cases reported Friday.
System can't handle the case spike
Saskatoon has welcomed 200 Afghan refugees
3 profs sue University of Winnipeg and Province of Manitoba because they don't want to get vaxxed
Alberta OVID19 hospitalizations up 96% over past 2 weeks
131 in Saskatchewan hospitals
FEDERAL MODELLING SUGGESTS "VERY INTENSE" OMICRON SURGE WITHIN WEEKS
Did you catch COVID19 on the job? Make sure you get a PCR test
Shahab wants stronger mask orders after Scott Moe breathed COVID19 on him
Thousands of teachers and students absent in Edmonton due to COVID19
Former Camp Hope residents homeless again after apartment building fire
Dozens of Saskatchewan care homes suffer COVID19 outbreaks
Saskatoon School redeploy staff due to rising COVID19 cases
All truckers MUST be fully vaccinated to cross border